Accommodation
We're delighted to have been able to get fantastic rates with some of Wellington's main hotels; you'll find them some of the best deals in town!
To take advantage of these special rates, bookings must be made during your online registration for the conference. Please do not contact the hotel directly. If you have any questions, give us a call on +64 4 384 1511.
We'd like to encourage you to all stay at the conference hotels as this will mean that everyone's in the same place giving more opportunity for you to network with new friends outside of the conference hours.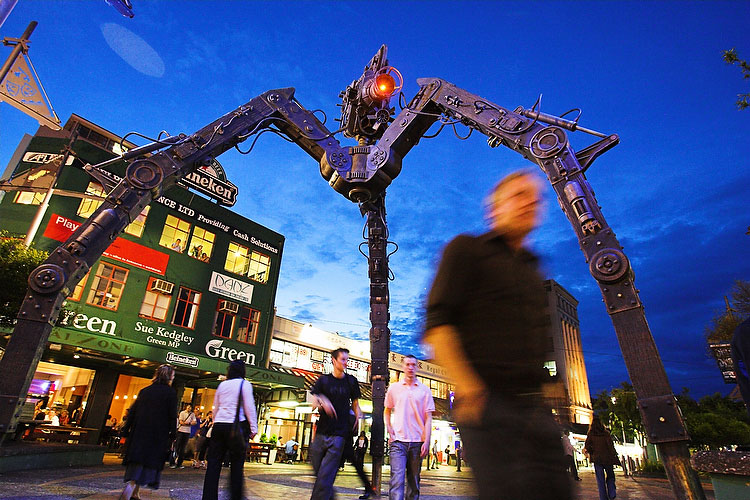 Hotel Name
Room Type
Room Rate
Distance from conference venue Te Papa
West Plaza
Queen Room
Twin Room
$165.00
$165.00
0.45km
Copthorne Hotel
Superior Room
$224.00
0.65km
Astelia Apartment Hotel
Studio Queen
$149.00
0.85km
Boulcott Suites
Executive Studio
$185.00
0.9km
Comfort Hotel
King Room
$126.00
1km
Quality Hotel
Deluxe Suite
Queen Suite
Twin Queen Suite
$227.00
$191.00
$191.00
1km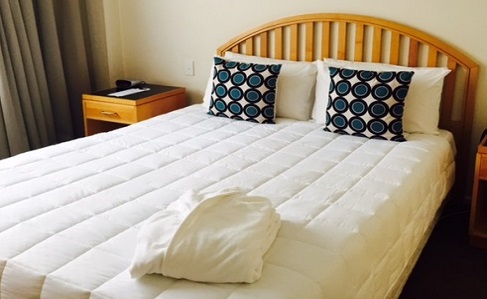 Westplaza Hotel
110 Wakefield Street
http://www.westplaza.co.nz/
The West Plaza Hotel occupies the prime position for business or pleasure in Wellington. Within in easy walking distance of the major government departments, commercial offices, and conference and event centres of the CBD.  Plus you're only a short walk from the premium shopping of Lambton Quay and the entertainment zones of Courtenay Place and the Cuba Quarter.
Room Rate: Queen/Twin Room $165 per night (not including breakfast)
Copthorne Hotel
100 Oriental Parade
https://www.millenniumhotels.com/en/wellington/copthorne-hotel-wellington-oriental-bay/
Located on Wellington's premier Oriental Parade, overlooking the stunning Wellington Harbour, Copthorne Hotel Wellington Oriental Bay is the perfect base to explore the city.
Merely 10 minutes away, are the city's shopping, commercial, and entertainment centre. The Te Papa Museum, Live Theatre in Courtney Place, and many of the city's finest restaurants and bars are also close to our Oriental Parade hotel.
Room Rate: Superior Room $224 per night (not including breakfast)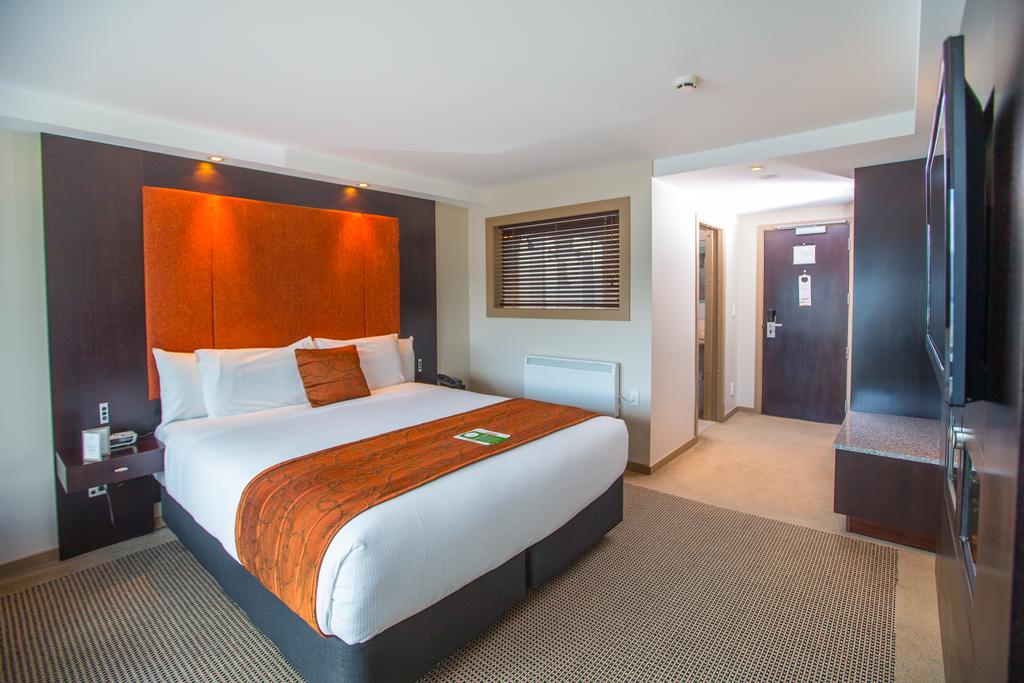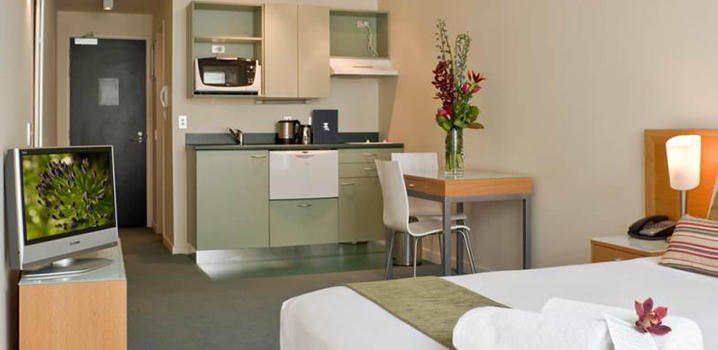 Astelia Apartment Hotel
156 Willis Street
http://www.villagegroup.co.nz/accommodation/astelia-apartment-hotel-wellington.htm
This 4 star self-rated apartment hotel is located in the shopping quarter of Willis Street. The location offers handy access to the quirky entertainment and café culture of Cuba Street and dining out and nightlife options of Courtenay Place, and is a short walking commute to the business district. During the day, take a stroll along the waterfront or a look around Te Papa Museum, just a 15 minute walk from your apartment.
Room Rate: Studio Queen $149 per night (not including breakfast)
Boulcott Suites
5 O'Reilly Avenue
http://www.villagegroup.co.nz/accommodation/boulcott-suites-wellington.htm
Centrally located in Wellington, Boulcott Suites is a unique 5-star apartment hotel that has been designed and fully furnished with style.
Boulcott Suites is ideal for guests looking for quality and space.The brand new North Tower provides executive and premium studio and one bedroom apartments, some with balconies.
Room Rate: Executive Studio $185 per night (not including breakfast)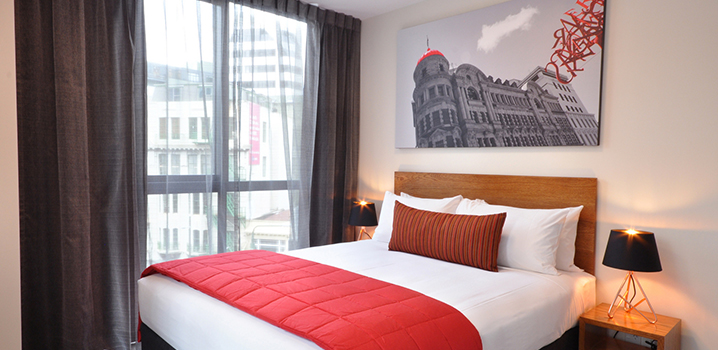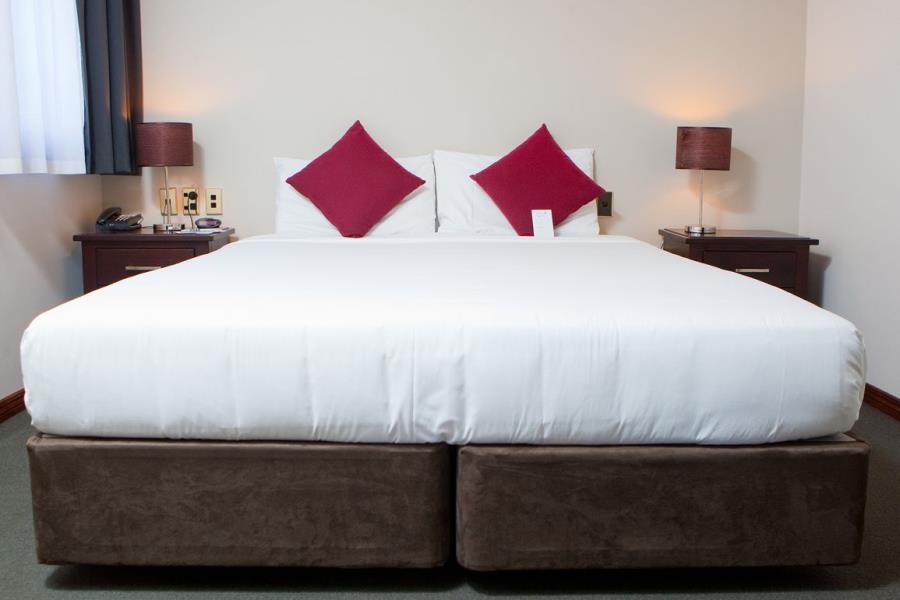 Comfort Hotel
213 Cuba Street
http://www.cqwellington.com/
The Comfort Hotel Wellington is housed in a beautifully restored heritage building. The detailed 1900s architecture features a rimu timber staircase and ornate corniced ceilings and captures the style and feel of the Edwardian era. This Wellington accommodation is ideally located in the vibrant Cuba Street part of the city. Right at the doorstep you will find a melting pot of cafes, restaurants, art galleries and a colourful collection of hidden boutique shops. Te Papa National Museum, the waterfront and parks, Parliament, Botanic Gardens, and many more attractions are only a stone's throw away.
Room Rate: King Room $126 per night (not including breakfast)
Quality Hotel
223 Cuba Street
http://www.cqwellington.com/
Encompassing the very essence of Wellington, Quality Wellington exudes character and charm alongside cool and chic in the heart of vibrant Cuba Street.
This chic hotel is a 3-minute walk from the closest bus stop, 1 km from cultural exhibits at the Museum of New Zealand Te Papa Tongarewa and 3 km from the Wellington Zoo. Modern rooms have free Wi-Fi, flat-screen TVs, sitting areas, and tea and coffeemaking facilities.
Room Rate: Deluxe Suite $227 per night (not including breakfast)
Queen Suite $191 per night (not including breakfast)
Twin Queen Suite $191 per night (not including breakfast)