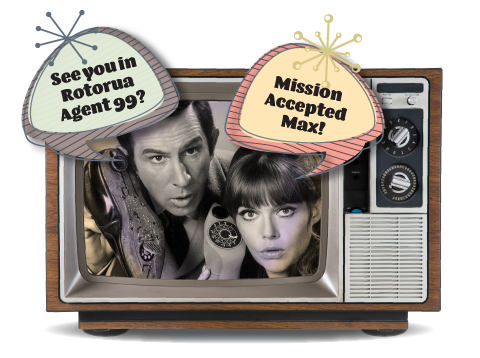 Welcome!
Dear Friends and Colleagues
The SEO's Bay of Plenty region would love to see you at our conference in Rotorua next year. It will be held at the Sir Howard Morrison Performing Arts Centre, which is close to our accommodation as well as shopping, bars, restaurants and the Rotorua lakefront.
Our conference theme is 'Get Smart'. Take CONTROL of your life and get rid of the KAOS that surrounds you. Smart does not mean perfect. Like Maxwell Smart, we all have much to learn in order to Get Smart.  So, if we have the right resources and skills, and maybe even a little bit of luck, we can be successful and avert disaster.  Our conference is programmed to show you all kinds of gadgets and tools to help you Get Smart in all facets of your professional and private life.
While you are here you might want to consider staying an extra day or two to explore some of the many attractions Rotorua has to offer. The conference will be during the second week of the July school holidays – 18-20 July 2018. So mark these dates in your calendar and convince the Chief that this event is critical professional development for you.
We look forward to hosting you and remember, Rotorua is not just a great tourist destination, it's also a great place to learn.
See you there
Louise Berney
Conference Convenor
BOP committee: Nawa Ruckes, Lilian Gilbert
REGISTER YOUR INTEREST TO ATTEND
Destination Rotorua!
Few places in the world offer such a stunning array of options in as beautiful a setting as Rotorua. Situated in the heart of the Central North Island, Rotorua is New Zealand's most unique and iconic destination with a legacy of welcoming and hosting international and domestic visitors.
Rotorua has a world-class meetings infrastructure with inspiring and unique off-site venues. The wide range of accommodation and superb conference support services will ensure the conference is a one of a kind occassion.
Conference Secretariat
Conferences & Events Ltd
Level 3, 195 Willis Street
Wellington 6011
Phone: +64 4 384 1511
Email: seo2018@confer.co.nz
Website: confer.co.nz