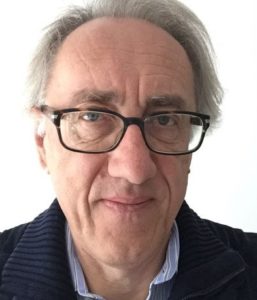 Dr. Gianmario Benzoni
Department of Structural Engineering
University of California, San Diego
Dr. Gianmario Benzoni graduated from the Politecnico di Milano, Italy, in 1981. He was a professor in the Department of Structural Engineering at the Politecnico di Milano and visiting scholar at the California Institute of Technology. He joined the Department of Structural Engineering at the University of California San Diego in 1994. He is currently Full Research Scientist.
He serves as Director of the Caltrans SRMD Testing Facility at UCSD, a unique testing facility for performance characterization of  full scale seismic isolators and energy dissipators.
Dr. Benzoni is responsible for research activity in the field of seismic protection of existing and new building and infrastructures. He was Principal Investigator of the experimental characterization of dissipation devices for the California Toll Bridge Project of the Department of Transportation.
He is Editor-In-Chief of the oldest European International Journal on Earthquake Engineering (Ingegneria Sismica) and is co-Founder and current President of the Anti-Seismic Systems International Society (ASSISi).
Dr. Benzoni is author of more than 200 scientific publications on Earthquake Engineering research topics like seismic behavior of masonry buildings, structural health monitoring, seismic vulnerability and risk evaluation, experimental tests on R.C. bridge components and dynamic behavior of seismic isolators and energy dissipators.
Rene Lagos
University of Chile
RENE LAGOS C. – Civil Engineer University of Chile (1978).
He is Chairman and C.E.O. of René Lagos Engineers, and leads the firm's High-rise Buildings and Seismic Design Group. He has been responsible for the structural design of more than 1,500 projects, representing over 12,000,000 m2, ranging from multi-story buildings up to 64 stories, to complexes of affordable housing. Hundreds of these buildings have 20 stories or more, with developments up to 700,000 m² (8 million ft²).
PROFESSIONAL ACTIVITIES: Among the most prominent projects, in the area of high rise buildings are:
The Tallest Building in South America: Costanera Center Complex, in Santiago Chile, with 4 Towers and 700,000 m2. The Main Building with 64-story and 300 meters high, plus two 42 story and one 30 story towers
The Tallest Residential Building with Seismic Base Isolation in the Americas: Ñuñoa Capital, in Santiago Chile, Two towers with 32 stories above the isolation level.
Telefónica Building, in Santiago Chile, a 33 story building, 140m high.
Swissotel Tower, in Guayaquil Ecuador, a 45 story building, 180 meters high.
Atacama 1 Thermo-Solar Tower, 250 meters high in the Atacama Desert, Chile.
Capital Fort Tower 3, in Sofia, Bulgaria. Peer Review of a 48-story tower, 202 meters high.
ACADEMIC ACTIVITIES:
At the School of Engineering, University of Chile in Santiago has been External Expert Professor, teaching structural analysis and seismic design of concrete buildings courses, also has been Guiding Professor of several Theses in Structural Engineering for undergraduates in Civil (Structural) Engineering.
NOTEWORTHY:
President of the Chilean Association of Civil-Structural Engineers, AICE. (2011-2015)
Co-Author, "Seismic Performance of High-rise Concrete Buildings in Chile", co-authored with Marianne Kupfer, Jorge Lindenberg, Patricio Bonelli, Rodolfo Saragoni, Tomas Guendelman, Leonardo Massone, Ruben Boroschek, and Fernando Yañez for the International Journal of High-Rise Buildings CTBUH, September 2012, Vol 1, No 3.
Co-Author, "RC Building Damage and Implications for U.S. Codes" co-authored with John W. Wallace, Leonardo M. Massone, Patricio Bonelli, Jeff Dragovich, Carl Lüder, and Jack Moehle, EERI, Earthquake Spectra – Chile Special Issue, 2012
American Concrete Institute Convention – Chicago USA, March 2010: Guest Speaker: "Tall Concrete Buildings in Chile and Their Seismic Performance During the February 2010 Chilean Earthquake" and "Structural Design of a 300 meters Tower in a High Seismic Zone"
Fourth SEWC (Structural Engineering World Congress) Como, Italy, April 2011
Keynote speaker: "Performance of High Rise Buildings Under the 2010 Chilean Earthquake".
Structural Concrete in the Americas and Beyond – 7th International Workshop, March 16-17, 2012, Dallas TX U.S.A. Guest Speaker: "Successful Performance of Concrete Buildings during the Chilean Earthquake of February 27, 2010".
Akira Wada, Dr. Engineering
Professor Emeritus
Expert Earthquake Engineering Specialist
Tokyo Institute of technology
Dr. Akira Wada, recipient of the 2011 Fazlur R. Khan Lifetime Achievement Medal and Professor Emeritus of the Tokyo Institute of Technology, is considered to be a Japan's leading expert  in structural engineering with a specific focus on seismic structural design, base isolation and damping. Dr. Wada's contributions to the field of science and technology and connections in Japanese academic and government circles make him uniquely qualified to lead and consult on a wide variety of projects.
Since becoming Professor at the Tokyo Institute of Technology in 1989, Dr. Wada has held a number of important positions, including serving as President of ANCER and chairing the CTBUH Japan Chapter since its formation in 2010. In 2014, he was elected President of the Japan Seismic Isolation Association. He also has served as President of the Architectural Institute of Japan (AIJ, 2011.6-2013.5).
Filed of Expertise
(Years / Institution / Activities)
Structural Engineer at Nikken Sekkei LTD.
(Tokyo, 1970.4-1981.12, structural design of tall buildings and space structures)
Associate Professor at Tokyo Institute of Technology
(Tokyo, 1982.1- 1989.10, structural design of architectures and buildings)
Professor at Tokyo Institute of Technology
(Tokyo, 1989.11-2011.3, structural design of architectures and buildings and earthquake engineering
Research experience
Buckling Restrained Bracing System (1978- now, Tokyo Institute of Technology and Nippon Steel Cooperation, basic concept, structural design and tests)
Damage Controlled Structures for Earthquake Prone Countries (1990-now, Tokyo Institute of Technology and MIT, basic concept and actual structural applications to many buildings)
Seismic Isolation Technology (1982-now, Nikken Sekkei Ltd., Tokyo Institute of Technology and Architectural Institute of Japan, basic concept and structural Design)
Awards
Fazlur R. Khan Lifetime Achievement Medal of CTBUH (Council on Tall Buildings and Urban Habitat) (2011.11)
Special Award of Japanese Society of Steel Construction (2006.11)
The Prize of Architectural Institute of Japan for Engineering (2003.5)
The Prize of Architectural Institute of Japan for Research Thesis (1995.5)