Pre Conference off site programme  - Thursday 12 April
Pre Conference off site programme  - Thursday 12 April
We welcome full conference delegates to join us on the pre-conference off site programme of a construction site visit on Thursday 12 April.  Delegates are able to choose which one of the construction sites to visit by registering in advance from the selection of options.  The project sites have been chosen to cover a range of different topics of interest to earthquake engineers and related professionals ranging from geotechnical considerations and foundation issues to various structural solutions including damping systems.  Each site visit will follow a similar programme and will be held at the same time.  Delegates will hear from professionals involved in the site about the project through some onsite presentations. This will then be followed by extensive tours of the site led by professionals involved in the project.
As each project is a construction site there are some requirements for site safety including in one instance a requirement for a site safe passport for all Delegates visiting that site and a couple of instances where steel capped boots are required. Any specific site safety requirements for each site are will be advised (hard hats and high viz jackets will be provided at each site).
The programme for the afternoon is:
2.30pm   Gather at the Conference Registration desk at SkyCity Convention Centre on Level 5.
2:45pm Leave to walk over to your chosen site with the group (all the sites are located within Auckland CBD within 15 mins walk of Sky City).
3:00pm Presentations at the site by Engineer, Architect and/or Client
Site induction
Site visit and walk around
5:30pm return to SkyCity Convention Centre
The numbers visiting each site are strictly limited and will be filled on a first come first served basis.  This off site programme is open to full conference delegates only.
The sites are:
85 Customs Street East  - hosted by Mott MacDonald and Peddle Thorpe
Commercial Bay – Hosted by Holmes
NZ International Convention Centre – hosted by Beca
City Rail Link – hosted by Aurecon and Mott MacDonald
New Zealand International Convention Centre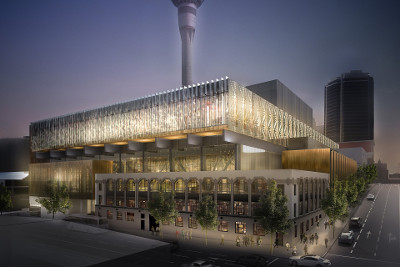 The New Zealand International Convention Centre (NZICC) will be a premier event, exhibition and convention centre in Auckland and New Zealand featuring 8,100m2 exhibition floor, a 2850-pax plenary hall and 2700m2 of meeting and breakout rooms.  The architecture concept for vertically stacked and flexible spaces and the need for a long span structure over double-height column free spaces resulted in a very challenging structural design.  The building is located on a sloping site between Hobson and Nelson Streets with nearly 8m retained soil, adding out-of-balanced seismic loading into the design considerations. The overall building comprises four levels of basement below Nelson Street and six levels of suspended floors.
The structural response to the design brief was to have long span steel trusses on tall columns over the plenary and exhibition levels.  These deep trusses and varying floor plates across levels create a vertical irregularity and a potential column-sway zone in the Level 3 floor.  Buckling-restrained braced (BRBs) frames were selected as the primary ductile lateral load bracing system, acting in parallel with the moment-resisting frames formed by the primary cruciform columns and storey-deep trusses. Several reinforced concrete core walls support the northern circulation building, which is tied back to the main structure at Level 3 and 6.
The building is currently in construction with the main structural elements being erected.
Designers Richard Archbold Architectural Principal at Warren and Mahoney and Richard Built Senior Technical Director – Structural Engineering at Beca will present the architectural and structural challenges of this project. This will be followed by a walk-over visit of the construction site.
Site Requirements;
This site requires a site safe passport or the international equivalent to attend
Steel Cap boots are required for this tour
PPE vests, hard hats and safety glasses will be provided to attendees
Please dress in long pants and shirts with sleeves
Commercial Bay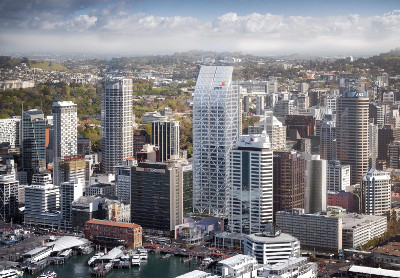 Owned and developed by Precinct Properties, Commercial Bay will reshape the waterfront area bounded by Britomart, the Viaduct and the CBD, and resurrects the location's original name. It integrates with the existing buildings (Zurich and HSBC) to create a working population of 10,000 people. The project consists of a 39 level, 39 000sqm office tower and 18 000sqm of retail space which will set Commercial Bay as the largest mixed use development in Auckland.
One of the main complexities for the Commercial Bay project is the integration with the separate, isolated CRL tunnels which run through the site and beneath the tower. This has required large trusses beneath the tower to transfer load out to the surrounding walls and columns on either side of the tunnels. Another complexity is that there is three levels of basement across the majority of the site.
The structural system of the tower is an elastically braced steel frame. The retail component consists of a range of structurally separate but architecturally linked buildings. The main retail structure consists of a concrete moment frame building with three levels of basement and three suspended levels. Two other retail buildings are steel moment frames, and a fourth is a smaller concrete moment frame building.
The Commercial Bay site is currently in construction with the tower structural steel rising up, the concrete moment frame building on the corner of Queen and Customs street complete, and the rest of the retail buildings moving forward quickly behind them.
David Mahon from Warren and Mahoney as well as Chris Mackenzie and Geoff Sharp from Holmes Consulting will give an overview of the architectural and structural challenges, followed by a lead site engineer from Fletchers about the construction challenges.
Site Requirements;
Steel Cap boots are required for this tour.
PPE vests, hard hats, gloves and safety glasses will be provided to attendees
Please dress in long pants and shirts with sleeves
85 Customs Street East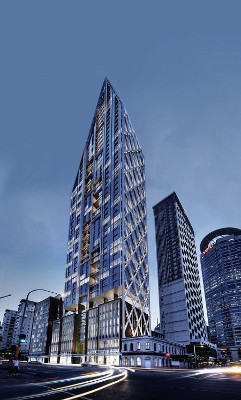 Owned and developed by ShunDi Customs Limited a new mixed-use development in Auckland, New Zealand. If completed today, the 52-story residential tower would become the city's tallest.
With 46,635 square meters of floor area, the structure will consist of 221 residential apartments, studios, and penthouses, with the remaining seven podium floors area being of mixed use. A five-story structurally waterproof basement will provide car parking and at its lowest floor sits around 15m below the water table.
The basement "tub" was constructed using 600mm diaphragm wall panels on all sides, and will be internally propped by 3 levels temporary bracing to allow the excavation of largely East Coast Bays Formation rock. The floors are then built from bottom up with the propping removed once the floors have been constructed. The process will take around two years before construction is back at ground floor level.
The architectural and client brief called for the apartments to have clear, unobstructed views to the north over Auckland Harbour which greatly influenced the building's design. The structural solution uses an architecturally expressed external elastic mega-frame to the east and west elevations of the building, supplemented by a braced elevation on the south side. The building also incorporates an innovative distributed damping system and will be the first of its kind in Australasia. This system controls the building sway with a series of damping devices which are hidden within party walls, meaning there is no reduction in the building's net area.
Construction is expected to be completed by the end of 2019.
Brad Luke from Peddle Thorp as well as Nick Gillespie from Mott MacDonald will give an overview of the architectural and structural challenges, followed by a lead site engineer from CCNZ about the construction challenges.
Site Requirements;
Steel Cap Boots, PPE vests, hard hats, gloves and safety glasses will be provided to attendees
Please dress in long pants and shirts with sleeves
City Rail Link
Auckland is New Zealand's largest and fastest growing urban area. It is expected that over the next 30 years Auckland's population will grow by just under 1 million people - 75% of New Zealand's expected population growth. Current population and economic growth rates mean Auckland's transport system, which is reliant predominantly on the road network, already faces significant constraints.
Growing demand for transport due to increasing employment and population in the Auckland region, and the Auckland CBD in particular, has driven the need for implementation of high capacity, high quality transport infrastructure to underpin the ongoing development of Auckland's strategic role in the New Zealand national economy.
The proposed Auckland City Rail Link (CRL) is considered to be the most significant improvement to Auckland's transport network since the opening of the Auckland Harbour Bridge. The City Rail Link will connect Britomart Station with the North Auckland Line (NAL) in the vicinity of the existing Mount Eden Station and includes two running tunnels, two new underground stations (Aotea and Karangahape), extensive modifications to Mount Eden and a major upgrade of Britomart Station.
Scott Elwarth CRL Construction Manager, Dale Burtenshaw DSBJV Project Director, Michael Chung and Alex Panov Aurecon Design Engineers, will provide an overview of the challenges presented by the design and construction and seismic assessment of Contract 1 that modifies Britomart Station to enable the CRLL running tunnels to pass beneath the existing foundations of the Central Post Office.
Site Requirements
Steel Cap Boots, PPE vests, hard hats, gloves and safety glasses will be provided to attendees.
Please dress in long pants and shirts with sleeves